Sea & River Kayaking in Osa Peninsula, Costa Rica
The Agujitas River flows right past the hotel and opens itself up to the glistening ocean, making it the ideal spot for kayaking. (self-guided tour)
Aguila de Osa is fully equipped with single and double Jackson kayaks. These include back support and are very stable. Our kayaks are available all day with no reservation needed.
They are great for heading upriver, into the rainforest, to hang out with the resident animals and tropical birds.
The best time for this is around high tide, either 2 hours before or 2 hours after, in order to get the furthest upriver.
Or you can take them out to the bay, to head down the coast passing sandy deserted beaches, and dark volcanic rock outcrops. If you decide to hit these beaches, it is a must to watch the wave conditions as this can be very tricky to time correctly! Either way, it will be a great spot to soak up some sun and go for a swim in the bay!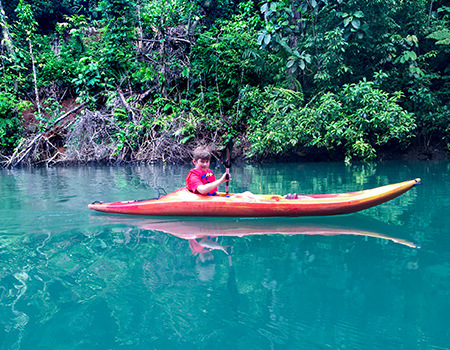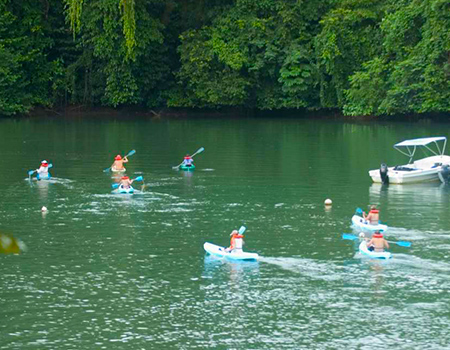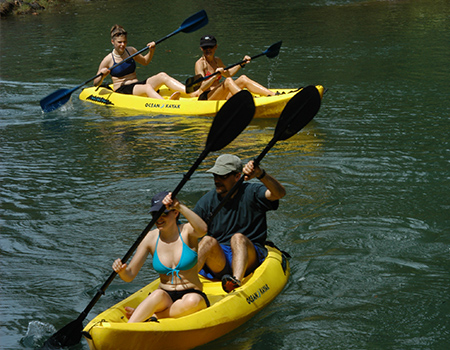 Price: Free for hotel guests.
Duration: Your choice, best sunrise to sunset.
Time: At your leisure, depending on tides.
Ages: 6+
Activity level: Easy to Moderate.
Tips:
We recommend that you wear a lifejacket, sunglasses, sunblock, a hat and shirt to protect you from the tropical sun.
Testimonial
"Kayaks are available for use free of charge. I enjoyed kayaking up the river listening to the sounds of the howler monkeys and looking for the crocodile. We also kayaked out into the bay which was a treat – a flying fish skimmed across the water not 2 yards from my kayak!"
Contact Us
For reservations contact us:
Toll-Free: 1-866-924-8452
WhatsApp: +506 8744-2967
Costa Rica Direct Reservations: +506 4000-1686
Hotel Direct Number: 506-8840-2929 or 506-2775-4545
Available 7 days a week 8am - 8pm
Email: Info@aguiladeosa.com