Scuba Diving Caño Island Costa Rica
Experience Costa Rica's finest Pacific Coast diving in the clear, cobalt blue waters surrounding Caño Island Biological Marine Reserve. You'll discover an Eden of brilliantly colored coral and volcanic rock formations that house vibrantly colored schools of tropical fish.
Our PADI dive instructors and dive masters take beginners, intermediate, and advance divers aboard our 30-foot island Hopper on a voyage of spectacular ocean adventures.
Aguila de Osa is home to the oldest PADI Resort operations in Drake Bay, since 1993! Let our experienced dive team offer you the optimum diving experience in Costa Rica.
Caño Island is 13 miles off the coast of Drake Bay and the Osa Peninsula. With all it's clear and vibrant tropical waters, volcanic rock formations, canyons, and pinnacles, all affixed with colorful hard and soft coral, Caño Island makes for a diver's paradise.
From colorful reef and pelagic fish, to schools of whitetip reef sharks, nurse sharks, and the more rare bull, great hammerhead, and whale sharks there is plenty to see year round. There are also all sorts of rays, such as manta, eagle, mobula, cow, and more, plus several types of sea turtles. Looking hard around these rock formations there is a good chance of running into all sorts of blennies, or hard to see, frog fish, harlequin shrimp (clown shrimp), several species of eels, or even the elusive octopus who all live below Caño Island's waters. There are big schools of barracuda, horse-eyed Jack, milkfish and huge colorful schools of grunts, snappers, and Porkfish, as well as tropical colored fish like damsel fish, wrasse, king angel, moorish idols, and so much more. Let's not forget our big resident fish cubera (dog tooth) snappers and amber jacks cruising these waters, remember this is the Pacific Ocean and everything here is bigger!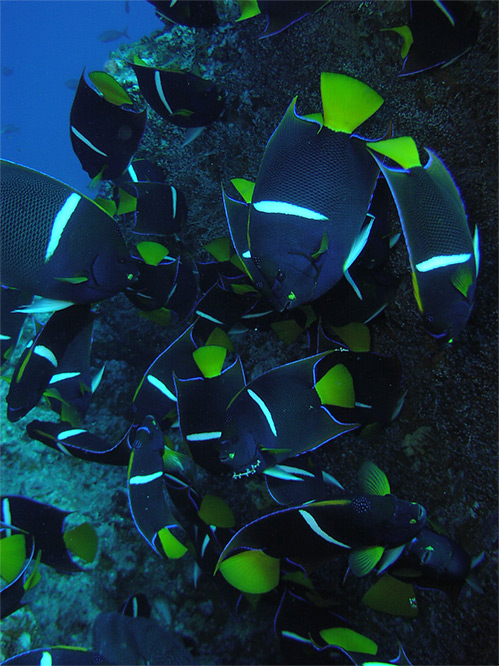 With year-round visibility of 30-100 feet, and its plethora of exotic sea life, Caño Island is an underwater photographer's dream.
We supply all equipment, so you can avoid the gear-related extra-weight airline charges. Sherwood regulators, Scuba Pro BCD, and O'Neil and Henderson wetsuits are all included in our price. If you choose to bring equipment, we suggest bringing your own mask and regulator.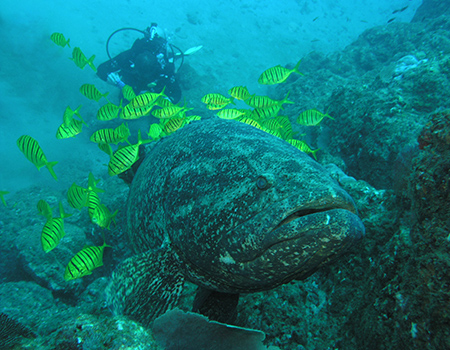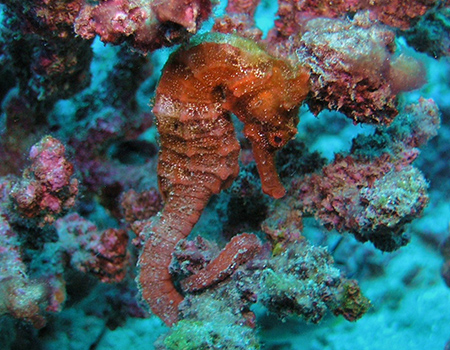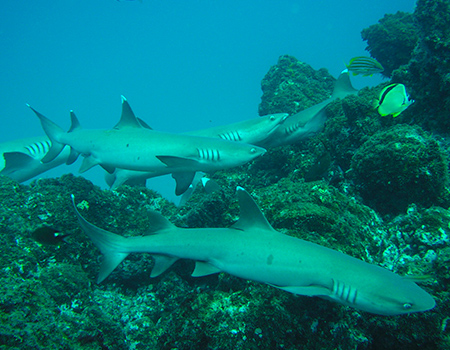 Included in this adventure!
Price: $140 per person plus tax
Duration: 6 to 7 hours
Departure Time/Place: 7:30 – 8:00 AM Águila de Osa dock
Ages: 10+
Activity level: Moderate, challenging when current is strong, or visibility is low.
Provided: Two dives with professional bilingual PADI dive instructor and dive masters, our 30' Island Hopper dive boat dive with crew, all national park tickets, all top-of-the-line professional dive gear and a 2-tank dive, fruits and homemade snacks, and Koco's amazing lunches back at the hotel.
Tips: We recommend bringing your regulator and mask (if desired, but is included in our price) sunscreen, hat, sunglasses, and underwater camera.
Note: Junior divers 10 to 14 years of age can only dive to 40 feet maximum. A charge for an extra dive master may be required.
Divers Alert Network: DAN diving insurance is must when diving outside your country we highly recommend purchasing this before visiting Costa Rica, well worth the $35 cost.
Open Water Certificate: Looking to get your dive certificate? Give us a call! For those who have finished their pool, theory, and classroom work and want to finish your open water certificate with the 4 open dives that you need to get your open water certificate, let us know – we will be glad to accommodate!
Discovery Dive Course for non-certified divers: Aguila de Osa loves to offer its guests the chance to embark on new adventures: here is a chance to take the dive challenge and go swim with the fishes underwater – we'll link you up with our dive instructor to consult you about the chance to do a discovery dive course if you're interested!
Contact Us
For reservations contact us:
Toll-Free: 1-866-924-8452
WhatsApp: +506 8744-2967
Costa Rica Direct Reservations: +506 4000-1686
Hotel Direct Number: 506-8840-2929 or 506-2775-4545
Available 7 days a week 8am - 8pm
Email: Info@aguiladeosa.com