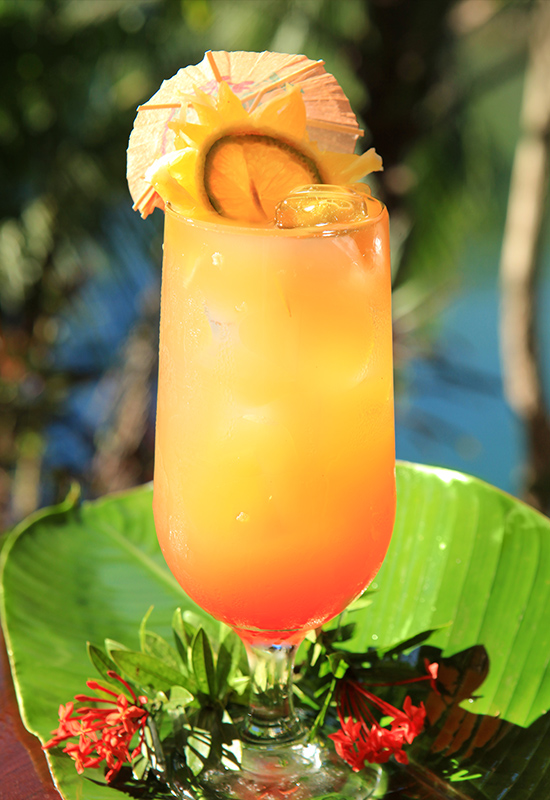 There are bars in the tropics, and then there's The Bar in Aguila de Osa's Great Room. We've got a tropical storm of dozens of signature cocktails —from locally-inspired specialties like our Guaro Sour and the Sabor Tico, to The Classics — Mojitos, Margaritas, and fabulous Coladas made from seasonal fruit, or hand-crafted Sangrias to cool you off with the very first sip.
It's an extensive menu of exotic concoctions waiting to be discovered.
We're fully stocked with your favorite top-shelf gins, vodkas, 19 brands of Kentucky and Tennessee bourbons, Canadian Whiskey, and premium Scotches, plus aperitifs and liqueurs. Or go local with Costa Rica's own Cacique and Centenario Rum. Feeling muy bravo? Check out Tequila Corner and sip or shoot any of eight brands of primo tequila!
There's one more amazing thing at The Bar. After a day adventuring in the jungle or out on the water, one of the best wine lists on the Osa is waiting for you to explore. Brilliant whites and reds from Argentina, Chile, California, and France will pair perfectly with Happy Hour appetizers or with any of the fantastic meals created by Chef Dixon.
Wine, cocktails, and whiskey right on the edge of the rainforest … you're gonna love The Bar in the Great Room … at Aguila de Osa. Cheers!
Contact Us
For reservations contact us:
Toll-Free: 1-866-924-8452
WhatsApp: +506 8744-2967
Costa Rica Direct Reservations: +506 4000-1686
Hotel Direct Number: 506-8840-2929 or 506-2775-4545
Available 7 days a week 8am - 8pm
Email: Info@aguiladeosa.com